Opportunity. This word brings overwhelming hope for many students embarking on their careers. It illuminates ambition, calls for motivation, and requires much patience. Many students find themselves wanting to take on every opportunity that appears, hoping that this will help them achieve all their goals and set them up for success. There are tough decisions to make and choices that come with every opportunity. However, we often forget to consider other important things along the way and take a breath.
WHEN IT SHOULDN'T BE A CHOICE
We are all marathon runners. We train and educate ourselves to become professionals in the future—to cross the threshold and finally become who we believe we should. But in the process, we can often ignore or lose sight of who we are: human.
We push boundaries. We decide how many finish lines we need to cross in order to reach our goals. However, the only aspect that should not be a choice is self-care. And every person running their own marathon needs this. Sarah Wells has also written a very useful piece about preventing and managing overload. One of her strategies is to work hard, but more importantly, recover harder. And that's what we're really emphasizing today!
A SELF-CARE STORY
One of the Believe Conference Marketing Coordinators, Emelie, shared her thoughts on balancing academia and self-care. As a university student, Emelie is very driven. She currently juggles school, a job, and volunteer work, which leaves little spare time. And with a full schedule, sometimes it is hard to keep the positivity and focus. Perhaps indulging in hobbies could help.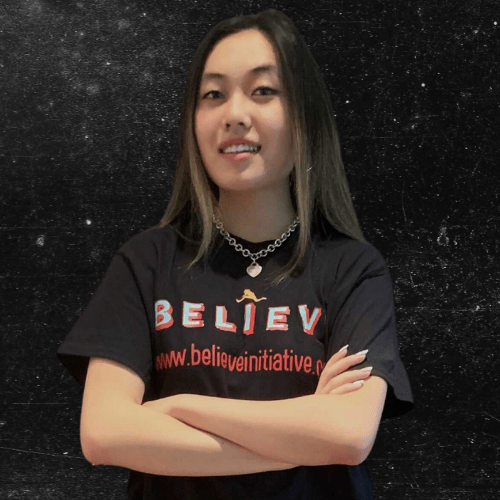 "I like to section off some time for myself. If there is important school work, I try to focus on that early so in the evenings I can take a bit of a break and catch up with friends, eat a snack, do my skin care routine, or listen to some music," mentioned Emelie.
If your schedule is anything like Emelie's, then you are not alone in feeling busy or overwhelmed. Fatigue is real. And it cannot be ignored like a fisherman trying to fish with a shark circling their boat. It'll strike very soon and we may not be prepared.
"Self care is important to me, it's time where I really get to focus on myself," said Emelie. "It doesn't have to be big things—it's really the small things you do and love that counts! I find that it's a very much needed break after a long day of school work."
TAKE A BREATHER
On any given day, whether swamped with work or not, take a breather. Now it doesn't necessarily mean hiking on a mountain, going for karaoke, paddleboarding, or having a fancy dinner. It could be putting on a face mask, listening to music, journaling, making a cup of coffee, or streaming a movie. Make time for micro moments of entertainment, or peace and quiet, and relax the soul. Don't take these moments for granted. Because during your marathon, you'll likely run out of steam without them. And Emelie agrees.
"Take university seriously but section off a part of your day to dedicate to yourself," recommended Emelie. "Unless you're writing a major paper or cramming for an exam, you'll have enough time to set aside at least 15 minutes to do something that can take away the stress of your school day."
This lesson is just as important for high school students or working professionals as it is for post-secondary students. We all need to take a breath. Especially when deciding to take on new opportunities, make sure you have time for self-care. Prioritize YOU when you need to!
BELIEVE CONFERENCE
There's only two weeks left until the EVOLVE 2021 Leadership Conference! If you haven't already, register for free HERE for two days of keynote speakers, panelists, prizes and more. Our team is working hard to make sure this conference is both fun & enjoyable, as well as educational & inspiring. We hope to see you there!